The Maite Sanctuary
Situated only minutes away from SWS house reef, the Maite Sanctuary has been described as the ultimate in Muck Diving. It is a beautiful, gentle  undersea white sand slope starting at 16m depth.  It is  host to a huge variety of macro-creatures and holds great promise for photographers and divers who like to take in the smaller wonders of tropical subsea life.  After taking in the macro fauna on the sandy slope we head up towards the shallows ,exploring a beautiful reef with all types of fish, nudibranchs and much much more.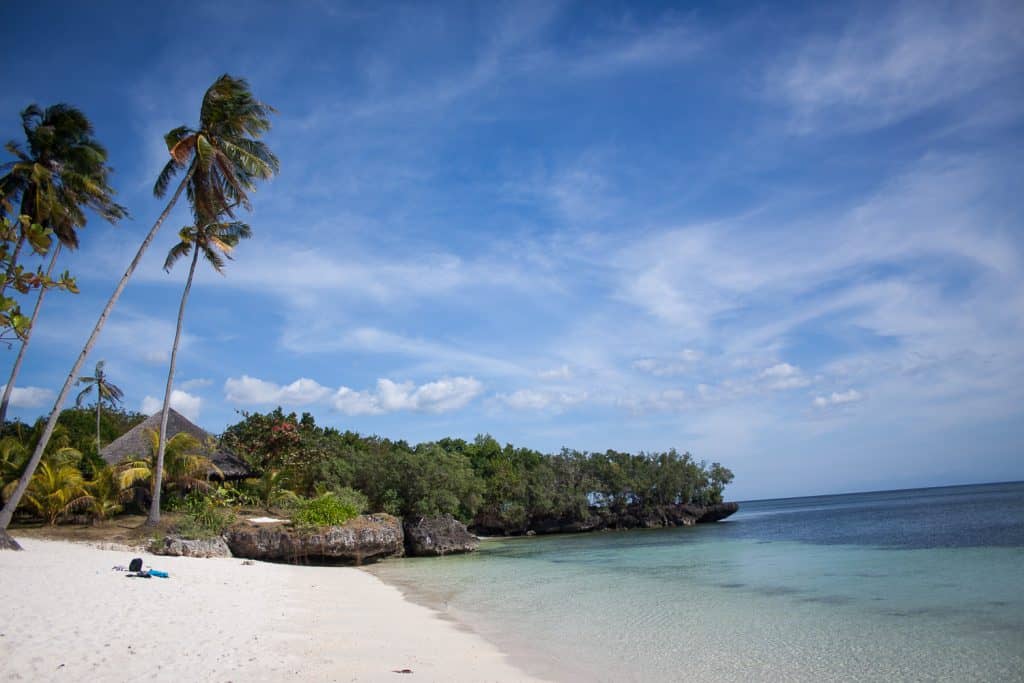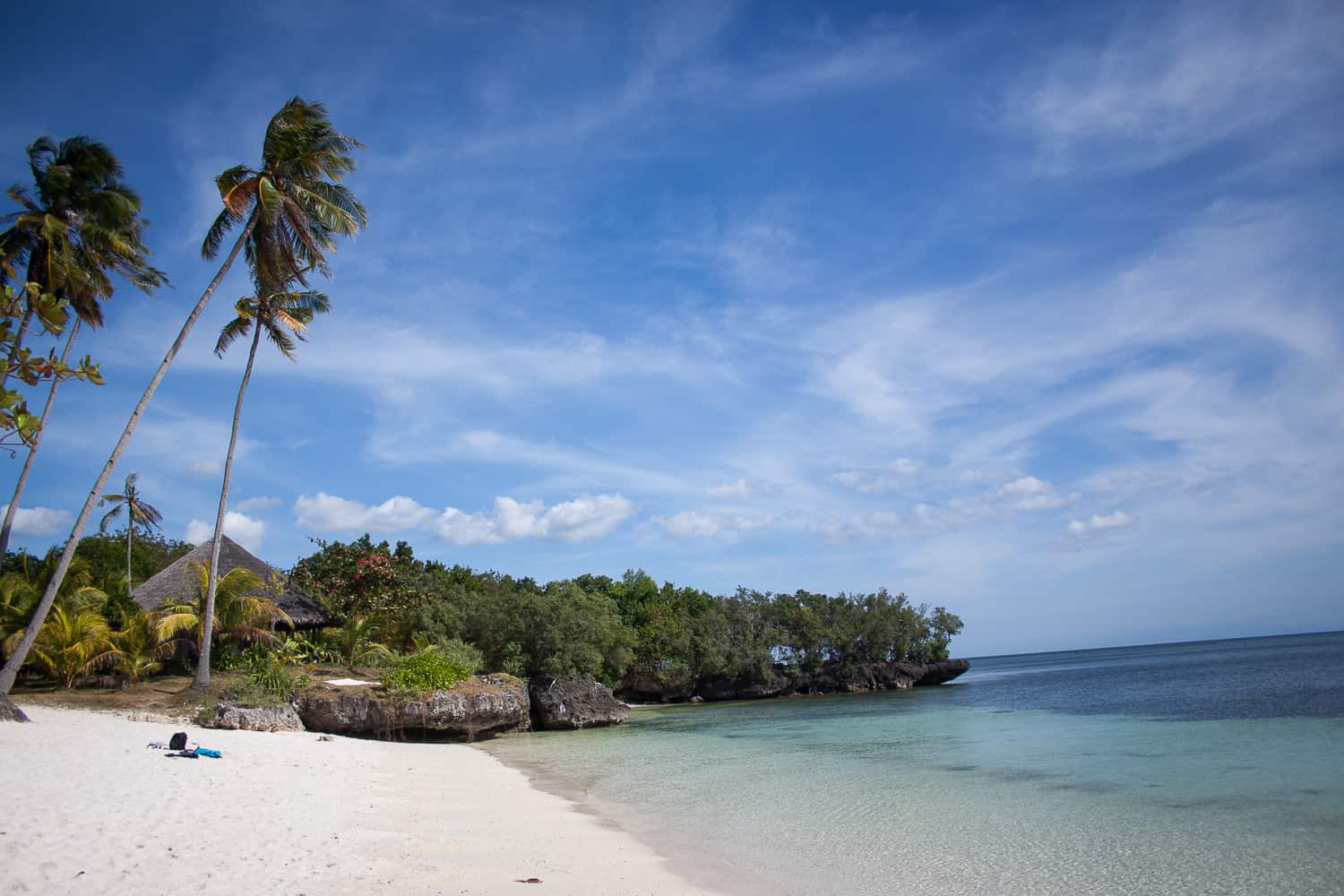 The Paliton Wall
Paliton Wall is a vertical wall area which falls off from a spectacular reef at a depth of 8m.  Descending downward to 35m with a small recessed cave at 32m.  This area is well protected and is the home for many many different species of fish, eels, nudibranchs and much more.  This wall dive is for the advanced/deep divers but the reef on top is spectacular for open water divers and snorkelers alike!
The Tubod Sanctuary
Again, only minutes away from the Our House reef, the Tubod Sanctuary is an amazing place to find rare and amazing submarine creatures.  With stunning corals, sandy areas and a gentle slope, divers can spend an entire dive searching for and finding many "bucket list creatures" from Stargazer Fish to Skeleton Eels and even Mandarin Fish for those who are inclined  to take a dusk dive.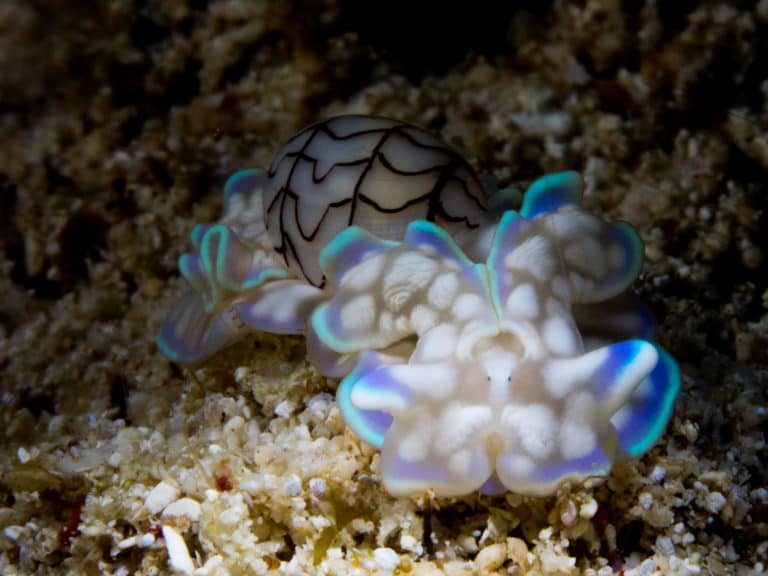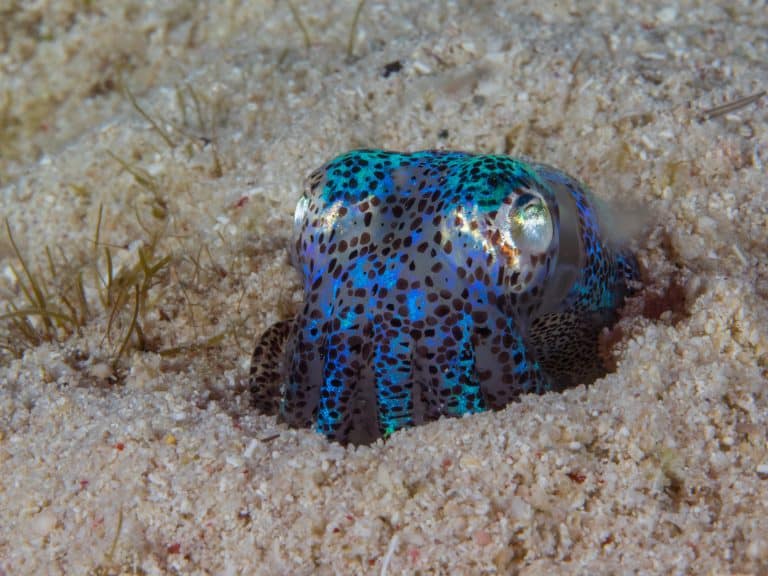 Our House Reef
Our House Reef area is an easy surface swim out to deeper waters where in either direction you can have amazing dives.  With gentle slopes and short walls mixed with small canyons there are amazing views and lots of underwater residents.   At night it is a different world with many Spanish Dancer Nudibranchs, Octopodi and other nocturnal inhabitants.
Apo Island
Approximately one hour boat ride away, Apo Island is a marine sanctuary area which hosts an incredible variety of ocean faunas.  For both divers and snorkelers it is an amazing day trip which never fails to impress.  Shallow grassy areas are a host to many turtles and the various underwater dive sites host everything from tiny macro- to large pelagic- creatures.  Lately there have even been sightings of both hammerhead sharks and thresher sharks on the deeper dives.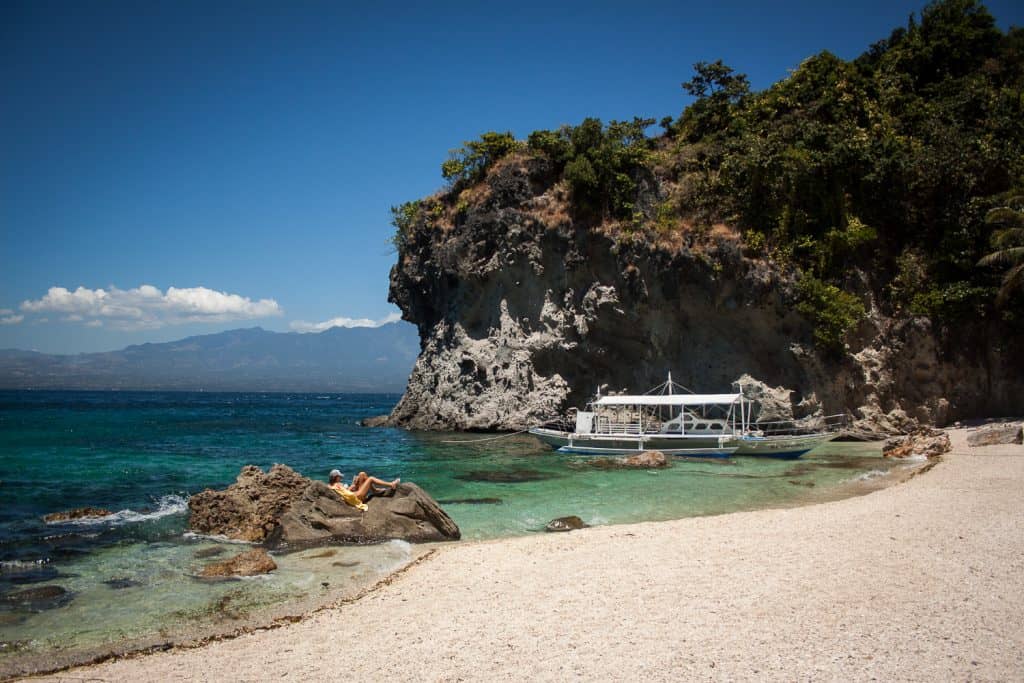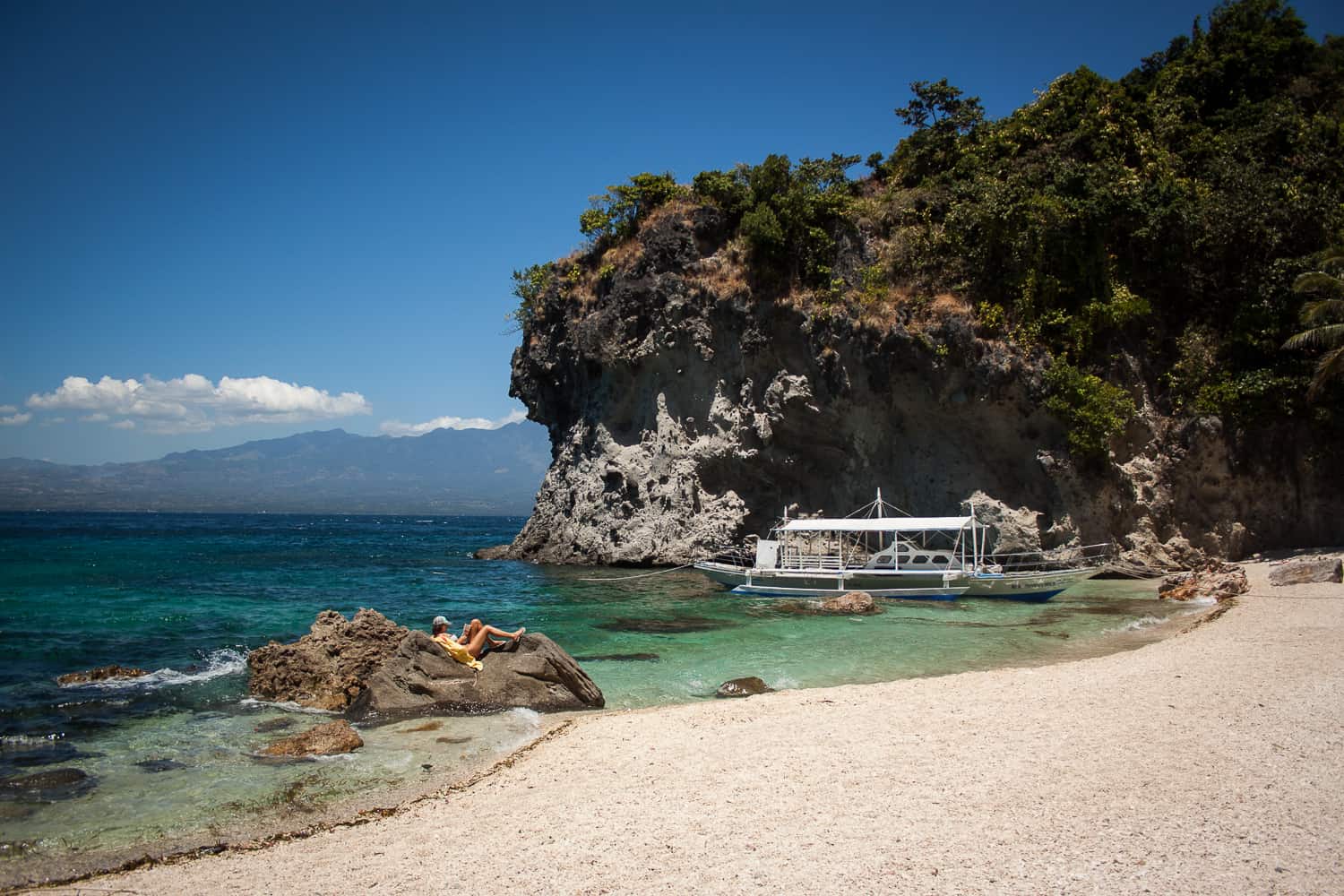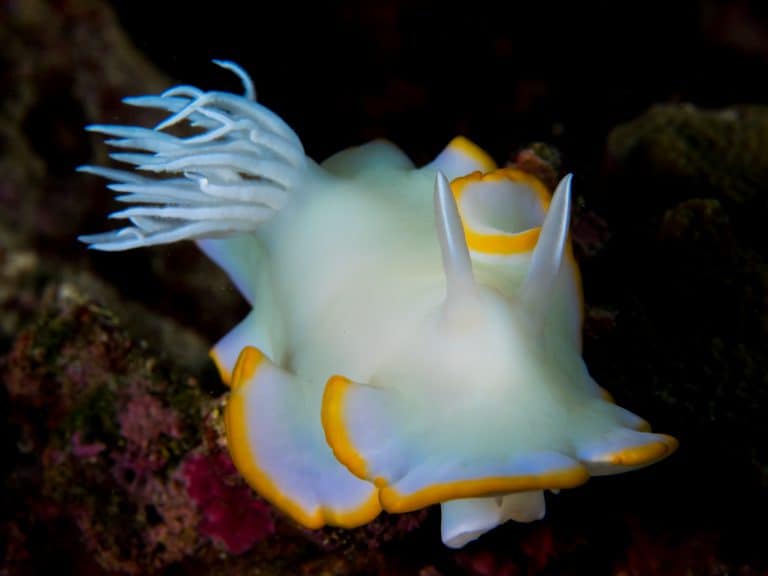 Sawang
Located only a few minutes drive South East along the coast from Siquijor Divers House Reef, Sawang offers a beautiful dive with fantastic topography of large cracks, channels and swim throughs. The area is a perfect hiding place for many species of life.  We often find frogfish, various nudibranchs and flatworms.  This dive site is one of the staff favorites as it is often overlooked by other divers.
Light House
Being one of the furthest dive locations for the San Juan area it takes approximately 20min by boat to get to this area.  This site is typically done as a two-tank dive morning.  The Lighthouse area is also a well policed Sanctuary where the sloping reef wall drops from 4m down to 24+ meter with most life well within the Open Water Diver depths.  This site can sometime have a mild to moderate current, so it is a great place to do a drift dive.  Along with the occasional frogfish we find ribbon eels in both the black and blue phase, lionfish, scorpionfish and occasionally a larger barracuda.  In the shallows at the end of the dive the colours abound from soft corals….keep your eyes open for warty frogfish here and for those of you who adore the tiny creatures, it is possible to find some rare pygmy sea horses on the fans…it takes a keen eye and plenty of patience but the rewards can be outstanding.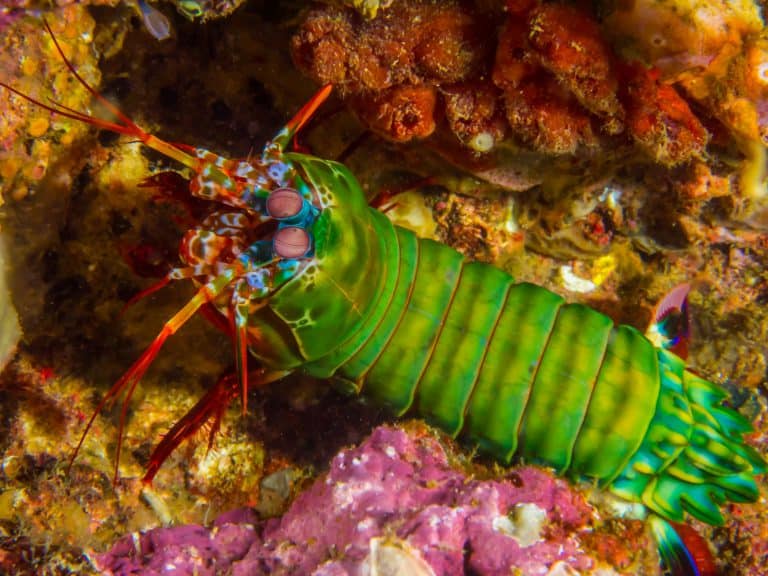 Balugo
Situated another 10 minutes passed the Lighthouse Sanctuary this dive is a great entry into 6 meters of water off of a small fishing village beach.  With a sloping wall from between 4 and 20 meters it is home to many varieties of hard and soft corals, fans, and barrel sponges.  With our experienced guides it is possible to find orangutan crabs, hairy squat lobsters, clinger crabs, various broken back shrimps, clown fish, cleaning shrimps and so much more.  The one thing you won't find here though is very many other divers!
Poblacion
Again, one of the sites that is not normally visited by divers, Poblacion is a wonderful dive with fantastic hard and soft corals.  Located just offshore from the center of San Juan town it is home to nudibranchs, ornate ghost pipe fish, various banded pipe fish species and a host of other small macro creatures such as Zanzibar Shrimp and Orangutan crabs.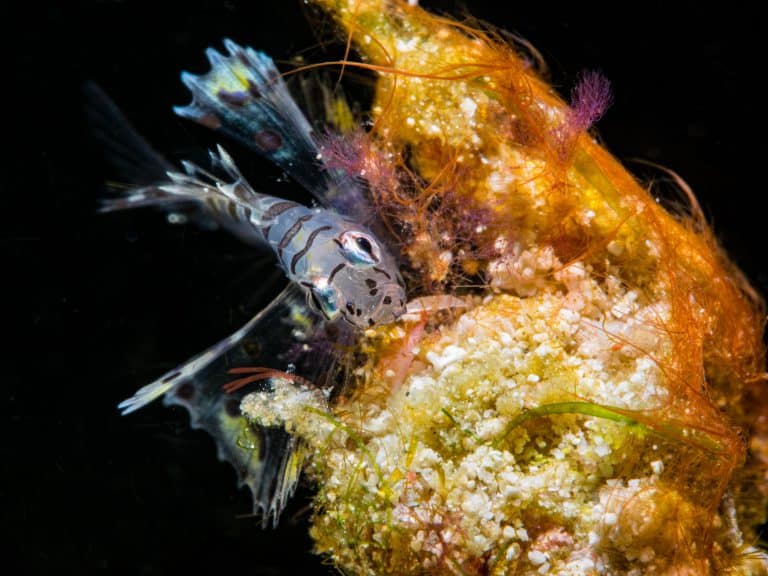 Sunken Island
A little farther offshore from the normal reefs lies the wonderful Sunken Island.  It is an underwater mound and is one of the strictly Advanced Open Water dive sites.  With a shallow depth of 14m the top of the mound is teaming with small fish that find protection inside the Cabbage Corals that cover the gentle slopes.  Being farther from the shore this site has potential for some stiff currents and thus is an excellent place to find schools of Jackfish, Barracudas etc.  Skirting the edges of the slopes it is a great place to use an underwater flashlight to get glimpses of Peacock Mantis Shrimp, the rare Mandarin Dragonnet and various types of moray eels.
Tambissan Wall
Located on the tip of the Western point of Siquijor Island outside the safe mooring areas for the boats of San Juan, Tambisan Wall rarely disappoints.  A verticle wall dive with depths ranging from 15 to 30 meters it is host to many species of fish, nudibranchs, eels and shells.  Keep your eyes open for electric clams, turtles and occasionally look to the blue!  You never know when something big may be watching you watching the wall!
Larena Wreck
Apparently bombed at anchor in 1945, this small Japanese Landing vessel is laying in 24-30 meters of water inside the Larena Port area.  Being either a shore dive or a boat dive this is a fun site to go visit.  Due to the depths and sometimes poor visibility, this is a dive for advanced divers only.  With the stern of the vessel laying in the shallower area against the sloping wall. The bow of the ship was separated from the rest of the hull and lays approximately 10 meters away in a deeper 30 meters of water.  The hull has deteriorated to the point that it is basically a skeleton of a wreck and this wreck offers no penetration.  The skeleton of the ship provides a good shelter for various sealife including Trevallies, nudibranchs and lionfish.  It is a fun dive with some good history attached.
Silinog
One of our special day trips.  Silinog Island lays approximately 23nM South West towards the Island of Mindanao.  It is the quintessential tropical island with white sand beaches topped by coconut palms and is surrounded with turquoise waters teaming with life.  A hidden gem and visited by few Silinog has some fantastic diving where the quantity of fish and life show well that their 3 day per month fishing and diving bans work.  During the New Moon periods every month they do not allow fishing or diving in many areas in order to let the fish lay their eggs and replenish the stocks naturally.  During dives here you can see many many large fish such as barracuda, trevallies, groupers and possibly even sharks!  The reefs are also a great place to look for rare nudibranchs, frogfish and numerous varieties of shrimp and crabs amongst others.
Silinog Wreck
A truly special dive and reserved only for those who have technical and wreck diving training and experience. The Silinog Shipwreck is the remains of a George Peter Lines transport and cargo vessel.  The ships name was the MV GEOPETER.  It was scuttled after a large fire erupted on board while travelling between Daipitan and Dumaguete in 1987.  All 350 souls onboard were saved by the heroic actions of the captain and crew.  They sailed the vessel into shallow waters by Silinog island and then evacuated all of the passengers and crew safely.  The vessel was stripped of useful and valuable instruments and was finally towed from shore and laid to rest on a sandy bottom at 60 meters.   This wreck offer a fantastic adventure for those who are trained to a higher level and offers some excellent wreck penetration and photography opportunities.  Many fish call the wreck home now and with very few divers ever visiting it is a true underwater sanctuary and a prime example of an artificial reef.  Advanced booking and proof of training and experience are required to dive this wreck.  Additional fees apply.